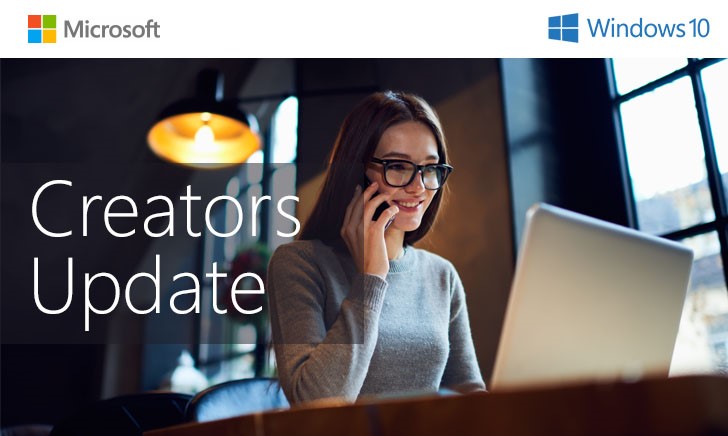 Following the unveiling of the Windows 10 Creators Update, designed to inspire and unleash the creator in us all, on October 26th 2016, today/yesterday Yusuf Mehdi, Microsoft's CVP of Windows and Devices Marketing, announced availability of the next version of Windows 10, which will come to more than 400 million devices starting April 11th. This next wave of Windows will roll out globally in a measured approach to ensure the best possible customer experience, including providing customers improved privacy management options.

The Creators Update brings innovation in Mixed Reality and 3D for everyone using Windows 10. Game Broadcasting is made simple and interactive with Beam while Windows Ink is more fun and productive. It delivers new features and capabilities for Modern IT and security advancements to optimize operations, enhance productivity and maintain the most secure environment possible. You can read more about these exciting new features in Yusuf's blog post.

Leading up to this, we've worked closely with our device partners to ensure customers will enjoy a great Windows 10 Creators Update experiences on the devices they're using today. Our partners are excited and so are we!  As Peter Han, Microsoft's VP of  Partner Devices and Solutions, explains, we have an exciting portfolio of innovative new devices our OEM and ODM partners have designed to light up the new creativity and gaming experiences enabled by the Creators Update. You can read more about these in Peter Han's blog post.

We believe this update and the enhanced capabilities of Windows 10 will present fantastic opportunities for retail partners and consumers alike, as whether your customers are already Windows 10 users, or whether they are looking for new Windows 10 modern devices, the Creators Update has something for everyone.

We are excited to share this news with you and look forward bringing the next wave of innovation experiences and devices to our customers through the retail space. We thank you for your ongoing support and look forward to partnering with you as we bring these new experiences to consumers together.

If you have any questions about any of these announcements please contact your Account Executive.